---
| | |
| --- | --- |
| Represented below are the best of currently-operating Canadian roller coasters (season permitting). Most categories show one steel and one wooden coaster (more, if there is a tie). | Figures are from park, manufacturer, or reference sources and are not to be deemed official, in the sense that The Guinness Book of Records people or other respected officials have not necessarily confirmed them. They are for general reference only and are rounded off to the nearest whole number. |
THE RECORD HOLDERS
For Canadian Roller Coasters
of the Present
(Asterisks ( * ) Indicate Notes.
They Appear after the Table.)

The TALLEST


Steel:

Leviathan
Canada's Wonderland
Ontario
93m

Wooden:

Le Monstre
La Ronde, Quebec
40m




The GREATEST DROP


Steel:

Leviathan
Canada's Wonderland
Ontario
93m

Wooden:

Le Monstre
La Ronde, Quebec
38m




The FASTEST


Steel:

Leviathan
Canada's Wonderland
Ontario
148 km/h

Wooden:

Le Monstre
La Ronde, Quebec
98 km/h




The LONGEST LENGTH


Steel:

Dragon Mountain
MarineLand, Ontario
1677m

Wooden:

Le Monstre
La Ronde, Quebec
1217 m (*)




The MOST INTENSE


Steel:

Mindbender
Galaxyland, Alberta
5.5G
(Was 6.5G(!)
before Modifications)

Wooden:

Coaster
Playland, British Columbia
4G




The LARGEST in AREA


Steel:

Dragon Mountain
MarineLand, Ontario
12ha

Wooden: (**)

Le Monstre
La Ronde, Quebec
? ha

or...

The
Mighty Canadian Minebuster
Canada's Wonderland
Ontario
? ha




The MOST INVERSIONS


Steel:

EDNOR - L'attaque
La Ronde, Quebec
5

Flight Deck
Canada's Wonderland
Ontario
5

Le Vampire
La Ronde, Quebec
5

Wooden:

(There are No Wooden
Coasters in Canada
with Inversions)




The OLDEST


Steel:

(See *** Note after the Chart.)

Wooden:

Coaster
Playland, British Columbia
1958




The LARGEST TERRAIN
(*,***)


Steel:

Dragon Mountain
MarineLand, Ontario


Wooden:

Tree Topper
Upper Clements Park
Nova Scotia





The PARK with the
MOST COASTERS


Steel:

Canada's Wonderland
Ontario
14

Wooden:

Canada's Wonderland
Ontario
3




The LONGEST TIME in USE
in the SAME LOCATION


Steel:

Roller Coaster
(1967)

Chippewa Park,
Ontario



Wooden:

Coaster
(1958)

Playland,
British Columbia



Notes for Roller Coasters of the Present
(*) This length figure is for the longer of the two tracks on Le Monstre. It does not combine both track lengths to make up the statistic.
Canada's Wonderland has claimed The Mighty Canadian Minebuster has a longer length, but figures show it is two meters shorter than Le Monstre.
(**) Both La Ronde and Canada's Wonderland claim to have the largest wooden coaster, but neither has provided area figures. If one considers "largest" to mean "massive", then Le Monstre would likely be on top, but the criteria here is how much *space* the ride encompasses. Both will be listed until accurate area figures are made available.
(***) There are old steel coasters operating in Canada, but their manufacturing dates are currently not known. Contenders are the Shiff "Kiddie Coaster" at Atlantic Playland in Nova Scotia, the Spillman coaster at Chippewa Park in Ontario, the Spillman "Flyer" at Lake Ontario Park in Ontario, and The "Li'l Dipper" at Tinkertown in Manitoba.
(*,***) A "terrain" coaster is one which follows the contours of the land and is built partly, or wholly, on a hill or in a ravine.
---
See here for a table of
Present Roller Coasters in Canada.
---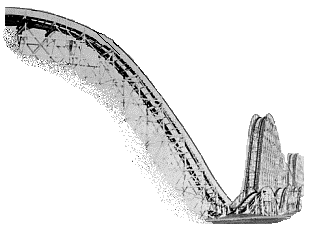 THE RECORD HOLDERS
For Canadian Roller Coasters
of the Past
Represented below are the best of past Canadian roller coasters. All categories show at least one steel and one wooden coaster. (Additional ones are given if there is a tie).
Be aware that figures for defunct roller coasters in Canada are sketchy and may not be accurate. Parks often exaggerated them for promotional purposes and there were no facts officials or enthusiasts who checked such things back then.
The statistics here are from the best historical resources currently available but are not to be taken as definitive. They are presented here to give some idea of which historical Canadian coasters stand out.
It may be possible that some defunct coasters for which figures are not available might make this list. Until information becomes available, they will not be included on this web page.
(Octothorpes ( # ) Indicate Notes.
They Appear after the Table.)

The TALLEST


Steel:
Scream
Machine
(#)
(1986-1986)
Expo 86
British Columbia
33m



Wooden:
Cyclone

(1927-1946)

Comet
(1948-1989)

Both at
Crystal Beach, Ontario
Both 29m (##)




The GREATEST DROP


Steel:
Scream
Machine
(#)
(1986-1986)

Expo 86,
British Columbia
32m



Wooden:
Cyclone

(1927-1946)

Crystal Beach, Ontario
28m




The FASTEST


Steel:
Scream
Machine
(#)
(1986-1986)

Expo 86,
British Columbia
88 km/h



Wooden:
Cyclone

(1927-1946)

Crystal Beach,
Ontario
84 km/h




The LONGEST LENGTH


Steel:
Sky Streak
(###)
(1973 - 1993)

Boblo Island,
Ontario
762m



Wooden:
Giant
(#,###)
(1919
- 1964 or 66)

Winnipeg Beach,
Manitoba
915m(#,###-a)




DEFUNCT PARK
with the
MOST COASTERS


In Total
During the Park's Run:
Crystal Beach
(##,###)
Ontario
(1889 - 1989)
11 or 12
From 1902 or 1905 through 1989



At the Same Time:
Boblo Island
(###,###)
Ontario
(1898 - 1993)
4
During the mid 1970s




The LONGEST TIME in USE
in the SAME LOCATION


Steel:
Sky Streak
(#,###,###)
(1973 - 1993)

Boblo Island,
Ontario
21 Seasons



Wooden:
Giant
(1916 - 1989)

Crystal Beach,
Ontario
74 Seasons




The SHORTEST TIME in USE
in the SAME LOCATION
(Excluding Single-Year Fairs/Parks)


Steel:
(Unknown Name)
(1976)

Belmont Park,
Quebec
1 Season ?
(One-Year
Concession ?)
(##,###,###)


Arctic Cat
(1974 - 1975)

Crystal Beach,
Ontario
2 Seasons
(Year-to-Year
Concession ?)



Wooden:
Dip The Dips
(1908 - 1909)

Hanlan's Point,
Ontario
Just Weeks Fewer
Than 2 Seasons
(Destroyed by Fire)


Notes for Roller Coasters of the Past
(#) The Scream Machine was sold when Expo 86 closed and may be ridden today at Six Flags St. Louis as Ninja.
(##) The Comet used the lift hill from The Cyclone, hence the same height figures. When The Cyclone was demolished, parts of it were used to build The Comet. The latter was sold when Crystal Beach Park closed in 1989 and, although it has been somewhat modified, it may still be enjoyed today in New York State at The Great Escape.
(###) The Sky Streak, also spelled as "Sky Streek", was originally known as The Thunderbolt. It was sold when Boblo Island Park closed in 1993. It currently may be ridden at Selva Magica Park, Guadalajara, Mexico under the name El Cascabel.
(#,###) The "Giant Dipper" at Vancouver's Happyland may rate as the longest. Reports at the time state it was 1,500 metres in length, but given its lift hill height of only 18 metres, this is excessive. However, photo research indicates that the lift hill may have been higher than 18 metres. Research continues.

(#,###-a) The length of 915 metres is the lowest of two reported measurements for The "Giant". The other is given to be 1,600 metres. If that one is true, it would still exceed The "Giant Dipper" if the latter's 1,500 metres turned out to be true.
(##,###) There may have actually been 12 coasters over the years at Crystal Beach because rumour is that there were two Chance "Toboggan" ("Arctic Cat") coasters in the park for at least one season as an operating pair.
(###,###) The Sky Streak may be eclipsed by Belmont Park's Wild Mouse. However, it's not sure how long this ride was at Belmont. It went in for the 1958 season and if it lasted until the parks closure year, it would have run for 26 seasons. There is also some doubt if this was in fact a steel "Mouse" ride. For these reasons, it is not currently listed as the record holder.
(#,###,###) It's possible that Hanlan's Point, Ontario might have tied or exceeded four coasters in one defunct Canadian park at the same time. In the 19-0s, there may have been four or five there during the 1908 and 09 seasons. However, it is unknown if The "Big Scream" and The "Switchback Railway" existed that late, leaving just three coasters that were known to be there for sure. Likely, they were gone by then, and thus, Hanlan's Point is not shown in the above table. Regardless, all the park's exisitng coasters, how ever many there were, were lost in the devastating 1909 fire in August of that season.
(##,###,###) It's not known for sure if the coaster at Belmont in 1976 was there for just one season. As a result, The "Arctic Cat" is listed as the next shortest. It will hold the record if it turns out that the Belmont ride was there longer.
---
Statistics for all current coasters in Canada:
Canadian Coaster Statistics.

A complete directory of
Canadian Roller Coasters of the Present

This is a list of all
Canadian Roller Coasters of the Past.

Additional statistics and information for past coasters
may be found within the park articles at:
Closed Canadian Parks.
---
Return to
Canada's Outdoor Amusement Past