ONTARIO
---
Port Dalhousie

NO PART OF THE FOLLOWING
ARTICLE AND PHOTOGRAPHS
MAY BE REPRODUCED WITHOUT
PERMISSION FROM THE AUTHOR ©
Lakeside Park
(Late 1800s. 1902 - 1969/1970 - Present)
---
Lakeside was located in Port Dalhousie right next to the Welland Canal which had been completed by 1832. It connected lakes Ontario and Erie to bypass Niagara Falls for shipping purposes. (Locals pronounce it "dal-HOO-see" - it is now part of St. Catharines.) The area had long been used as a beach but its popularity increased after 1901 when The Niagara, St. Catharines, and Toronto Navigation Company (NS&T - owned by The Niagara, St.Catharines & Toronto Railway) ran tracks across the beach to an existing pier.

Like many transit companies, they wished to increase business, and seeing persons already enjoying the beach, they developed facilities there so that people would use their rail service to travel to the newly-improved waterfront. They leased the federal beach land and built booths which they in turn leased to those wishing to provide services to the area. They also added a baseball diamond, carousel, and change booths.

Soon, cottages began to appear along the bluffs overlooking the beach with streets formed to access them. Steps were then built to gain passage to the beach from the streets above. By the mid 19-0s, Port Dalhousie was becoming known as a summer resort with swimming, entertainment and a growing midway. One photograph shows a large throng of bathers enjoying the beach and a tall water slide consisting of a staircase on the sand and an undulating slide down & out into the water. Lakeside was the perfect mid-point stop on the NS&T streetcar line. Along with several interurban lines, it ran one route from St. Catharines, past Lakeside Park and on to Niagara Falls, and vice-versa. People could leave home, shop in one city, stop at the park on the return trip, and continue home in the evening.

Being a lake-side park and near an already-existing dock, it was also serviced by ferry boats which encouraged patrons to spend a day at picnic facilities beside a lake. Lakeside became a transfer point between lake ferries and the streetcar line, adding to the park's business. Some of the more famous ferries which ran between Toronto, Port Dalhousie, and Lakeside Park were Dalhousie City (1911), Garden City, Lakeside and Northumberland (1891).
Dalhousie City
At Lakeside Park
1910s




A crowd of park-goers arrives for a day of recreation at Lakeside Park.
Note the addition of flags and pennants which are not seen in the above photo.
Dalhousie City
At Lakeside Park Dock
1911




Interestingly, Northumberland was first a ferry between Canadian provinces Prince Edward Island and New Brunswick, the nearby mainland across The Northumberland Strait, which is likely from where its name originated. This ship came to service the park in 1920 after Canadian National Railways (CNR), which ran the PEI service, took over the NS&T and replaced the PEI ferry with a larger one. The Northumberland was switched to lake service and improved with the addition of plush seats and a dancefloor with entertainment for passengers during the trips to & from the park.




The park prospered through the first two decades of the 20th century with many company and church picnics providing business. However, after CNR took over in 1920, the park really began to take off. Over the next few seasons, they increased the area from about 2.5 to almost 5 hectares by filling in low, swampy areas. They did not renew concession licenses to those vendors that were not up to the CNR standard, and replaced any tent concessions with wooden buildings - all of which sported the same white & green motif; drainage was dug for the baseball diamond, along with the erection of a grandstand and additional bleachers; a 3,000 seat covered picnic pavilion was built, and the park was electrically lit to extend the evening hours.
Crowds
Circa Late 1910s or Early 1920s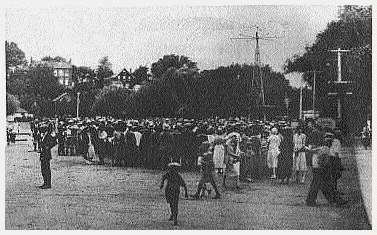 Note the Circle Swing tower in the background and the line of power poles to the right.
A bathing pavilion was erected, with suit and locker rentals available.
Bath House Token
Date Unknown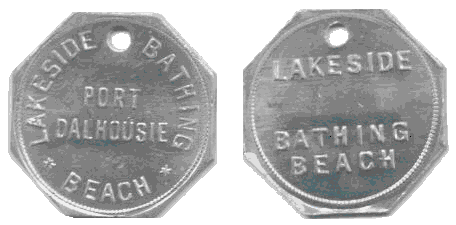 Here are the front and back of a park token. These were apparently used by patrons at the bathing pavilion for locker purposes. A number would be stamped on the coin that would correspond to a locker. Perhaps the hole was used for a lanyard so that people could wear the tokens around their necks or tied to their wrists to prevent loss.
A roller coaster was supposedly built in 1922. It was a Miller/Baker "Deep Dipper". Unfortunately, no additional information has surfaced and it does not show up on a 1930s map. It's possible that the concessionaire went under in the 1929 stock market crash and the ride was removed before the map was made. Research continues.

CNR created dormitories for the employees, a residence for the park manager, a committee/meeting room for events co-ordination, a band house for the musicians staying at the park while working, and a First Aid Station with a Mother's Rest area (Ladies Rest Room) used as a change & feeding station for their babies. These were made from used cottages that were moved during renovations.

After acquisition, CNR improved the NS&T lines by replacing rails and the wooden track blocks with new rails and paving. They used the blocks to cover the bandstand area and later the midway was paved with recovered street bricks after those were replaced with pavement. This made these areas cleaner, and easier than sand to walk on.

1924 saw the first Emancipation Day Picnic commemorating the abolition of slavery in Canada (and the entire British Empire) from 1833 onwards. 6,000 to 8,000 persons attended annually until the organizer, Toronto lawyer B.J. Spencer-Pitt, retired in 1951. These picnics had been popular at other parks since at least the turn of the 20th century.

By 1925, the CNR renovations had been completed. The park had or added in the succeeding decade:

              Archery Range
              Ball Diamond and Seating
              Bathing Pavilion
              Bandstand
              Dance Pavilion
              Miniature Golf
              Picnic Shelters
              Water Slide (New: 1929)
                 Plus rail & ferry service right to the park and a
              parking lot for customers with cars.

         Food Concessions:
              French Fries
              Hamburger Stand
              Honey Dew Beverage
              Lakeside Inn Restaurant
              Lunch Counter for Hot Dogs and Sandwiches
              Popcorn, Taffy Apples, Sugar Candy Booth
              Vernor's Ginger Ale
              Waffle\Ice Cream Stand

Entertainment ranged from local and international bands or orchestras, and stage shows at the bandstand and dancehall, with magicians, etc.. to base/softball and lacrosse matches on the ball field.

The Lakeside Inn Restaurant was situated at the intersection of the Welland Canal and Lake Ontario right at the ferry pier. CNR ran it like one of their fine dining cars with hostesses and a steward to greet guests. Full-course dinners of fish or chicken cost 85 cents.

The Vernor's stand was run by Texan Harry Robinson. He came every year to run the operation and closed out the season by taking his stand to the Canadian National Exhibition in Toronto.

         Rides Included:
              "Aeroplane Swings" (Likely a Traver "Seaplane De Luxe")
              "Carousel" (Looff) 1903? 1907?
              "Caterpillar" (Traver)
              "Dodgem" (Bumper Cars)
              "Deep Dipper" Roller Coaster ? (Miller/Baker - 1922 ?)
               Row Boats
               Water Bicycles (1933)
              "Whip" (Mangels)
              Plus many games including Bingo.

Rides and games ranged from 5 to 10 cents each. By having undercover agents cruise the park, CNR made sure the games were run fairly and that everyone won at least something.

The carousel was a 4-row Looff with two chariots and 74 animals - 42 of which were jumpers. Its manufacturing date is in contention with sources citing both 1903 and 1907. The wood-carved animals included camels, goats, horses, and a lion (one source says 2 lions). The ride was adorned with wooden shields sporting flag, flower, and animal emblems. Twenty oil paintings completed the top rounding board cresting.

Music was supplied by an Artizan band organ in which real musical instruments were played by machine, much as a player piano operates its keys. It was modified at some time from the older 121-key player to a 61 key so as to be able to use newer-style player rolls. This band organ may have come from London's Crystal Palace which was built for the 1851 world's fair. That building continued to be used after the fair until it burned in the 1930s. (For world's fair information, see the Exhibition Grounds on The CEC Midway.)

The ride was bought used from Scarboro Beach Park when that park closed in the 1920s. The National Carousel Association says this ride came from Hanlan's Point in 1921 but considering that Hanlan's Point didn't close until the 1930s and that Scarboro Beach Park closed in the 1920s, Scarboro Beach seems the more likely source.

Additional clues include the fact that the speed regulator was an old streetcar controller. This fits with the fact that Scarboro Beach was owned by The Toronto Railway Company, which may have modified the carousel to run on electricity. Hanlan's was owned by a ferry company until 1925, not a rail company.

Additionally, reliable sources say the Hanlan carousel stayed on that site until the 1980s and was then apparently demolished. A final clue is that Scarboro Beach Park changed hands in 1921, the year Lakeside was supposed to have gotten their carousel. The new owners of The Toronto Railway Company, of which Scarboro Beach was a holding, were not interested in an amusement park. It's very possible that they may have begun to sell off rides that year. There is no word as to what happend to Lakeside's first carousel.

The 1926 season saw 45 picnics booked.

For the 1927 season, which opened Victoria Day weekend on May 24th (typical of many Canadian parks of the era), the first week's events included Girls Softball, Fireworks (by the T.W. Hand Company), dancing with The Columbia Dance Orchestra, and a St. Catharines Concert Band performance. Also advertised was a paved highway right to the park.

By 1929, the park's attendance by ferry alone rose to 290,000 and 112 group picnics were booked. New that season was a large movable water slide which was towed into the lake by horses each season. This would remain in use until 1952.

The Depression slowed business in the 1930s, although school and churches continued to book picnics. 1932's opening day had a fireworks accident when a group of boys stole a rocket and set it off at ground level. It coursed through the crowd, injuring several. With safety now more of a concern, the fireworks were locked until setup time and the launch area roped off. As well, safety came to the carousel when the ring dispenser was discontinued out of fear regarding the youngest children trying to grab a ring and falling. Another reason was that those who did not get a brass ring, and thus a free ride, kept the regular rings - or worse, threw them into the sand where unsuspecting barefoot persons might step on them.

New that year were Holm's Water Bicycles, which he had designed himself. They were like a tall pedal boat with two side-by-side bicycle frames on top of a double-pontoon boat. The pedal mechanisms were attached to a rear paddle wheel and the handlebars attached to a mechanism to turn the pontoons.

Researcher Jim Abbate of Chicago contributes that Lakeside's list of rides for the 1935 season included Bicycle Boats, a "Caterpillar" (Traver?), "Circle Swing" (likely the Traver "Seaplane De Luxe"), "Custer Cars" (Traver), a Ferris Wheel, a "Hey Dey" (Spillman ?), Kiddie Airplanes (possibly Herschell), a Merry-Go-Round, "Ocean Wave", Swan Boats, and Venetian Swings.

By the start of World War II in 1939, attendance had regained its losses and the park was doing well again. Since the decline of Grimsby Park, its only competition was Crystal Beach which was about 50 kilometers away by air, and more expensive. Many large companies again held their picnics at Lakeside. New to the park were side-paddle boats for the kids, Ken Sobel's Amateur Hour and the Sunday Hymn Sing, the latter two at the bandstand. The hymn sing lasted until 1950 when the midway was allowed to be open on Sundays.

By 1945 there were half a dozen rides, a funhouse, 16 games (including a "Hi Striker" and "Guess-Your-Weight" scales), 8 refreshment stands, mini-golf, bicycle & paddle boat rental, a swimming pool, and a ballroom. However, the end was in sight. CNR wished to divest itself of amusement park holdings and offered the park for sale. No buyers were found but the park continued to run.

An unfortunate fire had marred the 1949 season when the ferry Northumberland was destroyed in a blaze at the Lakeside Park dock June 2nd. The cause was undetermined but thought to have started near a washroom through a carelessly discarded cigarette or electrical wiring fault. Because of that and other ship fires, the Ontario government imposed strict fire regulations. (Search on "Noronic" at Significant Dates.) CNR did not wish to spend the money to comply; they cancelled ferry service. Northumberland went for scrap and Dalhousie City was sold that year after finishing out the season. Coincidentally, it too, was destroyed by fire in 1960 at Lachine, Quebec.

This stepped up CNR's efforts to unload the park, because with no ferry service, patronship declined. So it was sold to its manager, Sid Brookson, in 1960. He ran the park without ferry service, save for for special excursions, throughout the 1950s and 60s. However, with more cars available taking people farther afield, and increasing pollution in Lake Ontario making the beach unsavoury, the park declined to the point that in 1969 only one picnic was booked. The midway closed that year, the refreshments stands, the following.

Port Dalhousie had been incorporated into the City of St. Catharines in 1961, so it was St. Catharines that Brookson sued with a charge that business had declined due to the city's sewage pollution into Port Dalhousie's harbour. A settlement was reached whereby the city took over the amusement area and turned it into a day-use park. It is now grassed over, and used for picnics and swimming. The carousel remains and there is one other surviving remnant, the picnic pavilion.

Through the efforts of local citizens, $20,000 was raised and given to Brookson with the promise the carousel would be kept at Lakeside. It reverted to the city and by 1979 was designated a historical site. A new brick building was constructed farther away from the lake to lessen water damage. The original carousel building was demolished.

In 1974, the carousel was in a fire and 20 animals were damaged. The whole thing was restored where upon it reopened 1981. It runs today, still at 5 cents a ride. Sources show it currently has a Frati band organ which plays Wurlitzer 150 rolls, and that this organ was refurbished in 1985. The Artizan organ resides in The St. Catharines Historical Museum, having been moved there in 1976.

The dance pavilion was destroyed by fire on December 20th, 1974. These fires are likely one in the same and were apparently the work of vandals. There is no word on any other remnants of this park still in existence.
Carousel Animals
May 2007
These Four Photos were Taken
by Ken Jones of
Niagara Falls, Ontario
---



Matt West of Saint John, New Brunswick reminded me of a song called "Lakeside Park" by Canadian supergroup, Rush. It appeared on the 1975 album "Caress of Steel". Matt writes: "The lyrics speak of fond memories from drummer Neil Peart who worked and played at Lakeside Park in the mid to late 1960s."

In his 2004 book, Traveling Music: Playing Back the Soundtrack to My Life, Neil says: "Another important setting in my childhood and early teens was Lakeside Park, in Port Dalhousie. When I was 14 and 15, I worked summers at Lakeside Park as a barker (`Catch a Bubble, Prize every Time', all day and night), and there was music: some of the kids brought transistor radios to work, and the music of that summer of 1966 played up and down the midway. At night, when the midway closed, we gathered around a fire on the beach, singing. Lakeside Park resonated in my life in so many deep ways, especially those fundamental exposures to music that would be forever important. It's all gone now. All that's left, apart from memories, is the old merry-go-round."
---

For more on Lakeside Park:
-Carousel Description and History
-Lakeside Park Carousel

Here is a YouTube video link from Steve Hartwell of St. Catharines:
-Lakeside Park Steamer 1929



Thanks to Dorothy Turcotte for information on Lakeside Park.

Thanks to Peter Warwick of St.Catharines for information on the NS&T transit company.

Thanks to Larry Laevens of Cambridge, Ontario for the scan of the park token.

Thanks to Ken Jones of Niagara Falls, Ontario for the carousel photos. See his site: -Niagara's Lost Amusement Parks

Thanks to Steve Hartwell of St. Catharines for the film link.



---
Return to the
Closed Canadian Parks Index