ONTARIO
---
Toronto
NO PART OF THE FOLLOWING
ARTICLE AND PHOTOGRAPHS
MAY BE REPRODUCED WITHOUT
PERMISSION FROM THE AUTHOR ©
Kew Beach/Kew Gardens
(1879 - 1906 - Present)
---
Kew Gardens was located in the Beaches district of Toronto, west of Balmy Beach. It opened in May 1879, after the area began to be serviced by rail and ferries, on 8 hectares of property owned by Joseph Williams. The beach section took up 2 hectares, while a wooded area occupied the rest. He wished to honour Kew Gardens in London, England and called it "The Canadian Kew Gardens". He also used several other London site names for various properties he owned.

As with Balmy Beach, the surrounding area became a village in its own right with churches, schools, a post office, and many other public & private buildings. It even had its own fire fighting service. As the region became fashionable, a building boom began to grow because many persons desired summer and year-round residences. There were also a great number of tent sites for those that wished inexpensive short stays at the summer resort.

The recreational tract consisted of a beach east of a protected arm of Lake Ontario called Ashbridge's Bay, much of which is filled in today. There were picnic areas & wooded trails, and camp sites, cottages, & boarding houses for seasonal visitors. As with Balmy Beach,the section grew to include a baseball diamond with its own team, bicycle trails, and lawn bowling & tennis clubs.

The Gardens grew in popularity with the coming of streetcar lines in the 1880s and 90s. A reported 1500 attended Dominion Day (now Canada Day) festivities on July 1st, 1898. Activities included band music, a baseball match, and a Punch & Judy show. The day ended with a huge bonfire. Refreshments included peanuts, popcorn, and fresh lake water.

A beach clubhouse built around 1903 was for sailing, rowing & paddling. It originally had a castle-like roof with two square turrets, one at each end of the beach-facing end. They were removed sometime in the late 1910s, perhaps due to structural problems from being so close to a body of water. The club had facilities for card socials, recitals & concerts, and dancing. Fireworks were often displayed here, as well.

Business was so good, with about 300 members, that the place was enlarged in 1904 with an addition to the main hall, and new dressing rooms and balconies. The club was altered again in 1906. No date for its demolition has surfaced, but the building no longer exists today. It was likely removed when The Beaches District began to be improved in the early 1930s.

Year-round residents and winter visitors to Kew could enjoy bobsleding, tobogganing, and skating, plus curling and hockey (each with its own team & club). Events were staged between Kew's teams and those of nearby Balmy Beach.
Kew Beach Toboggan Slide
1914



Photo: Arthur Goss
Toronto Archives
#RG 8-52-252

Children enjoy a winter slide at Kew Gardens.
As in nearby Balmy Beach, the district expanded to include many new streets, a post office, and it shared the telephone exchange (1903), and waterworks (1905) with the rest of the Beaches area. In 1901, Williams had a stone house erected on Lee Avenue, the park's eastern boundary. It survives today and until 1995 was the park groundskeeper's house.

By the 1890s, the difficulties of various local jurisdictions had become a problem. Some services were provided by one town, some from the city, some were independent, and so on. A Kew Beach Association was formed by the residents in an effort to address what they felt was neglect by the various governing bodies and to control runaway building and recreational expansion. It often petitioned local councils for improvement to the disjointed services such as streetcar runs, fire, police, street lighting, and sewer, water, & gas. Other complaints about the lack of paved streets and inadequate drains were often voiced.

In part, this may have prompted the City of Toronto to purchase the recreational area of Kew Beach and to run it as a public park, even though it had refused to buy other private parks in the area when offered for sale. Toronto council paid Joseph Williams $43,200 in 1907 for the property and moved or tore down the buildings on it to make a public park. (As stated earlier, William's house was kept and stands today.)
Kew Beach
1911



This postcard view shows Kew Beach after the City of Toronto purchased the area. The building at Center Right with the square turrets is the Beach Clubhouse. These would later be removed, as seen in the 1928 photo, farther on.
Here is a closer
view of the clubhouse.

Kew Beach Clubhouse
Date Unknown



A bathing/skating pavilion was built near the beach in 1913 and bordering on Queen Street there were tennis courts. It's not clear if these courts remained from the former park or were installed by the city afterward. Lawn bowling and baseball continued to be played, and band concerts went on. The beach still featured swimming and boating from with rentals from about half a dozen commercial boathouses at and near Kew Beach. One of these, C.W. Spink's, later became a dance hall, but most would be removed or made public by the 1930s. In 1916, a branch of The Toronto public library was set up at the north side of the gardens. It still exists today.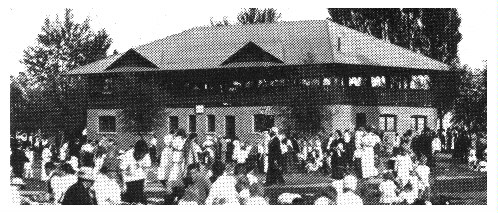 Kew Gardens Pavilion
1914

A life guard station went up in 1920 on the lake shore just east of the gardens proper. The Leuty Lifesaving Station building still exists today. Also that year, an intricate drinking fountain was placed in the park on Lee Avenue.
Kew Beach
1928



At the left is the Beach Clubhouse. By the time of this photo, the square turrets had been removed. The lifeguard station is next to it. Note the tower structure on its roof for observation of swimmers by lifeguards. Beside that is Shedden's boathouse and a residence at the right. Kew Gardens is out of frame to the left.
Little else has surfaced on the park itself, other than a lot of buildings were removed around 1930 to make Beaches Park (opened 1932). The lifeguard station remained, except that the building was moved closer to the water when reclaimed land made the beach wider. A $95,000 project restored it in 1993. This included a new observation tower, new floor supports, and a new deck, among other improvements. It & Kew Gardens are all part of Beaches Park, which continues to be used for public recreation.
---
Thanks to authors Mary Campbell and Barbara Myrvold for information. See "The Beach in Pictures" at
Specific Park Books.
---
Return to the
Closed Canadian Parks Index