Nova Scotia
---
Halifax
NO PART OF THE FOLLOWING
ARTICLE AND PHOTOGRAPHS
MAY BE REPRODUCED WITHOUT
PERMISSION FROM THE AUTHOR ©
Woolnough's
Pleasure Grounds
(1856 - 1873 - 1906 ?)

Redmond's
Pleasure Grounds
(1906 ? - 1910 ?)
---
Charles Woolnough was a restaurant worker/owner who wanted to expand. In 1856 he bought property on McNab's Island from the McNab family and built a pier. He established a picnic area on the north-west portion of the island near where the quoits team had played, as mentioned in the McNab's Island article.

Woolnough catered to private functions for a number of years. One in particular that cemented the area's potential was a Highland Society of Canada event to entertain Prince Arthur, who would later become Canada's Governor-General. A large number of people showed up for that event and were pleased with the entertainment and catering as carefully planned by Charles. That and other successful events, plus the building of Fort Ives near the grounds, and the final closing of Downs' Zoological Gardens in 1872, made him decide to open the area to the public on July 8, 1873 as Woolnough's Pleasure Grounds.

There were harbour cruises, walking trails, a dance hall featuring military & civilian bands of the time, a restaurant, and areas set up for quoits, baseball & football (likely referring to soccer or rugby). The grounds were still often used to entertain dignitaries, with the public welcome for most such functions. This generated much publicity and the events were written up in newspapers & magazines of the day with accompanying photographs.

All this continued until others began to offer recreational facilities on the island which, along with a general decline, saw Woolnough's popularity drop off in the 1890s. The area continued to be operated through the early 1900s. However, by 1904, Woolnough was in debt. At this time, he sold a portion of his property to ease his poor financial situation, but by 1906 he had had enough. His summer home on the island had burned in November of 1905 and the British military, from which much business was derived, pulled out of Halifax in 1905 - 1906.
British Royal Army Service Corps
1905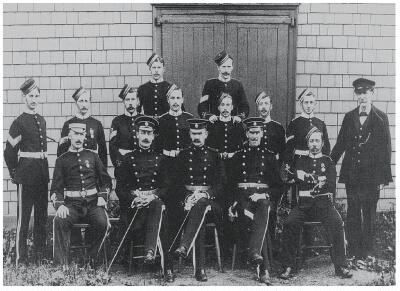 (Parks Canada: 108-97-2-905-0208)
Here is a photo taken of the group before leaving Halifax. This unit was responsible for services & supplies to Halifax military forts via water. All but four returned to England.
Although the former British military bases were transferred to the Canadian military, it took time - The Royal Canadian Navy wasn't even formed until 1910. Even though some British personnel elected to stay and become part of the Canadian military, there were not enough in total to sustain all island businesses, so the death knell for the pleasure grounds was sounded. Woolnough sold the business, but continued to own the property until 1908. For the next few years the area was operated as Redmond's Pleasure Grounds. This was eventually sold to James Findlay, a more successful competitor elsewhere on the island. See -Findlay's Pleasure Grounds.
Thanks to Jeff Parsons of Dartmouth, Nova Scotia for suggesting this park.

Thanks to Mike Tilley of McNab's Island Ferry Service in Eastern Passage, Nova Scotia for suggestions regarding further information resources.

For more on McNab's Island itself, see:

---
Return to the
Closed Canadian Parks Index