ONTARIO
---
Hintonburg
NO PART OF THE FOLLOWING
ARTICLE AND PHOTOGRAPHS
MAY BE REPRODUCED WITHOUT
PERMISSION FROM THE AUTHOR ©
Victoria Park
(Early 1890's - 1905?)
---
(Also known as "West End Park")
The Ottawa Electric Railway Company (OERC) bought the farms of Andrew and George Holland and started a park. Located in Hintonburg, now part of Ottawa, the road to the park was known logically enough as Holland Avenue. It was located where the former Fisher Park High School and the present Tennis Club are today.

The park was first called "West End Park", but was renamed as Victoria Park in honour of Queen Victoria's Diamond Jubilee in 1897. It's unclear what year the park started using the name, but the 1897 or 98 season would be the most likely choices, although in anticipation of the event, 1896 is a contender.

Rides included a "Shoot the Chutes" which seemed to be a custom installation because the layout did not look like any other such "Chutes" models in Canada except for the one at Queen's Park in Quebec. A picture from a Queen's Park brochure shows this same ride in what appears to be a too-similar setting. In fact, it is the same picture. That leads to speculation that both parks were owned by OERC.
Shoot-the-Chutes Ride
circa 1908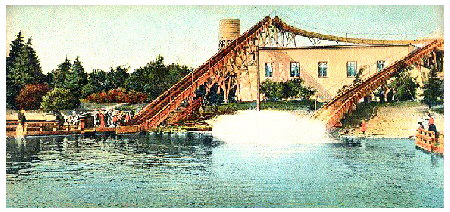 A boat has just splashed down in this hand-tinted image.
This park did not seem to be high on the OERC's list because after they opened Britannia Park in 1893, the company actually moved the Victoria Park auditorium to that location. There is no word on what they did to make up for the loss, but apparently Victoria Park continued for some time afterward because one attraction was the showing of early motion pictures, probably as a result of them being shown at Britannia Park, their main competition.

People seemed to like Queen's Park better because of the relaxing ride through the countryside to get there and the beach. Coupled with the fact that they poured all their efforts into Britannia, Victoria Park suffered.

The park declined early in the 20th century and the remaining buildings were used by the homeless as residences. The final season seems to have been 1905.

In more recent years, the land has been used for housing, a playground (Fisher Park), and the already mentioned school and tennis club.
Thanks to Bruce Ballantyne, Bernie Geiger, and David Jeanes of Ottawa for additional information on Victoria Park.
---
Return to the
Closed Canadian Parks Index