ONTARIO
---
Niagara Falls
NO PART OF THE FOLLOWING
ARTICLE AND PHOTOGRAPHS
MAY BE REPRODUCED WITHOUT
PERMISSION FROM THE AUTHOR ©
Tower View Park
Tower View Park Kiddieland
Tower View Kiddieland
(1965 - 1967. 1968 - ?)
---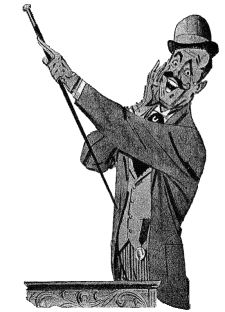 This park was located on Portage Road across from the Seagram Tower (Konica Tower, today), hence the name. That tower opened in May of 1962 and the amusement area in the summer of 1965 - likely in July. It was built in what had been one of the tower's parking lots.

Tower View's selection of rides included a wooden "Wild Mouse" roller coaster called The "Rapids", a ~550-metre "Autorama" U-drive car track, The "Crown Carrousel" (Borelli) with 40 jeweled horses (44 from another source), "Trabant" (European version), "Swing Boats" ("Swing Gyms" - Watkins?), and "Whirlpool" (Arrow ?). The latter was based on the Disney "Tea Cups" ride in California but with different cars.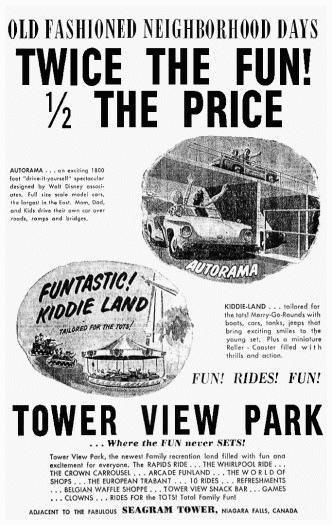 The carousel was an antique one that was described in one print advertisement as being 60 years old, but in another as having been "designed over 75 years ago". If true, given a 1965 installation, those ads imply that the ride was an 1880s design but built in 1905 and attributed to MD Borelli. He outsourced at least some of his carvings. If the ride was manufactured in 1905, its horses may have been made by Charles Looff or Charles Carmel. The latter had started his own shop that year after his employer, Looff, moved his operation from New York City to Riverside, Rhode Island.
Looff had made jeweled horses, so it's possible that Carmel followed in that tradition. However, it is reported that Carmel disliked glass jewels on his horses, but that Borelli often would add them to his creations whether he or someone else did the carving. Since Tower View Park's carousel had jeweled horses (something like 450 to 500 per horse), it seems to confirm that Borelli was indeed the manufacturer.
Other attractions included an arcade funland, "Pirate Gun" shooting gallery (supposedly one of the largest ever built), shops, snack bars and speciality food outlets. Kiddie Land had a small coaster and some little roundabout rides. One was a German import called "Autobahn". This had cars, a bus, a firetruck, plus other vehicles. Other models sported boats, cars, Honda motorbikes, tanks, and jeeps. It's unknown if the boat model was a wet ride or not.
Kiddie Land was also promoted as Kiddie "Circus" Land at least during the first season. Clowns are mentioned in a print ad, but no other circus theming seems to be evident at the park and the term does not appear in later promotions. By the 1967 season, live ponies were advertised as an addition for the kiddies.
There was an attraction at the park called "Train Town", but it's unknown if this was another name for the kiddieland itself or if it was an area that housed a train ride. There is no mention of a train, though. Current research points to it being a subsection of Kiddie Land.
For at least the opening season, Tower View had a sponsor partnership with the Tops chain of grocery stores. For every $5 spent there, a certificate was awarded that allowed the bearer to get an extra ride ticket for every one purchased. This made the rides be effectively half price. It's unknown how long this promotion went on.
Associated with the park, but some distance away on the Escarpment slope, was supposed to be a "Swiss Sky Ride". However, it's not known if it was ever installed. An inclined railway was in the same area, so perhaps this was built instead of the Sky Ride. In addition, other amusements were planned for the Escarpment area, but nothing has surfaced to indicate that they were ever built.
Photo:
Niagara Falls
Public Library


The Midway
Mid 1960s



Here is an off-season view of the midway. The carousel lies tucked away in a protective building while the coaster braves the elements. The high sign, which is back on here, reads "Swing Boats". Underneath are its "Swing Gym" cages.
In the background at Lower Right appears to be the lift hill and first drop of another coaster. Or, might it be a flume ride?
The Midway
Mid 1960s


Photo: Niagara Falls Public Library


This view is to the left of the above. The carousel building is in the background with the Whirlpool ride in the enclosed area in front.
The park closed in 1967 and was replaced with a 700 square-metre, $125,000 Canada Coach/Gray Lines bus station in spring of 1968. Parking for 400 cars would be provided approximately where The "Autorama" or perhaps a flume ride may have been. No reason is currently known for the park's closure other than that the bus company's previous terminal had been acquired by the Province of Ontario and so a new one was needed. The carousel building was kept as part of the new complex. It was incorporated into the terminal's rotunda waiting room. "Train Town" was developed into a restaurant area.

The junior rides were retained to become "Tower View Park Kiddieland" or "Tower View Kiddieland" as advertised in 1968 and 69. The new terminal/park opened in June, 1968. There is no word as to what happened to Tower View Park's other rides. Given that the carousel was an antique and the "Wild Mouse" only two years old, one would think that buyers for both of those rides would be readily available. A Sheraton Hotel now occupies the space today, a newer bus terminal station in the 1980s.
The Bus Station Plan
February 1968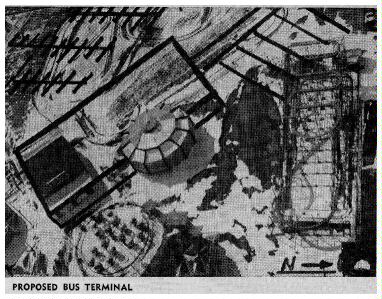 Photo: Niagara Falls Review

This newspaper photo shows the outline of the proposed bus station and parking spaces. The rides visible here are well defined against the snow-covered ground.
Note at Upper Left and Top Center the outline of a ride layout. The "Autorama"? Flume? Another Coaster?
---
For another look at this park, see:
-Tower View Amusement Park
Thanks goes to Ken Jones of Niagara Falls, Ontario for suggesting this park and forwarding the first two photos. See his site: -Niagara's Lost Amusement Parks

Appreciation goes to Heather Rodman of the Niagara Falls Public Library for additional information and for newspaper articles.

Thanks to Victor Canfield of Hershey, Pennsylvania for sharing his newspaper research. See Victor's webpage: -Roller Coaster and Amusement Rides.
Return to the
Closed Canadian Parks Index