ONTARIO
---
Niagara Falls
NO PART OF THE FOLLOWING
ARTICLE AND PHOTOGRAPHS
MAY BE REPRODUCED WITHOUT
PERMISSION FROM THE AUTHOR ©
Skylon Tower
Amusement Park
(1965. Mid 1970s - 1999 ? - Present)
---
This park was in the base of the still-standing Skylon Tower in Niagara Falls. The tower was begun in 1964 as an observation platform from which to view Niagara Falls and the surrounding area. It is 236 metres above The Niagara Gorge and one may see for over 125 kilometres on a clear day.
Horseshoe Falls
1996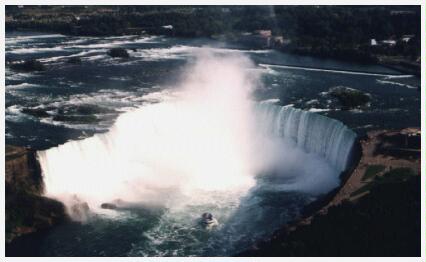 A Chris & Lina Photo
Almost 6,000 tonnes of concrete were used to construct the tower's supporting foundation. After that, slip-form construction was used to slowly pour concrete into an ever-moving-upward mould. As it rose, the tower narrowed from a 22-metre diameter at the bottom to 10 metres at the top. It was the first structure in the world to use this method on a tapered building. Less than a decade later, the same technique was used to build The CN Tower in Toronto. Until recently, this structure was the worlds tallest free-standing tower at 555 metres. Yes - over half a kilometre high!

The Skylon Tower was topped off with a 30-metre dome. The form for it was raised into place by hydraulic jacks and cables, after which concrete was poured and allowed to harden, thus forming the dome. It contains two dining areas, one of which is a 276-seat revolving restaurant. This requires one hour to complete a revolution. Total height of the tower is 160 metres. It is illuminated by 1000 pinhole lights and 22 floodlights. The tower opened in October of 1965.
Skylon Tower
Circa early 1990s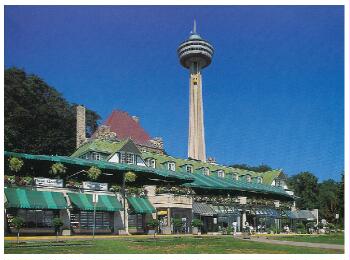 (Bonechi Archive)

The Skylon Tower rises sharply beyond the Victoria Restaurant.

The indoor amusement park was underground in the tower's lower level, 10 metres below grade. It's not known the year this began, but Terry Brown of Niagara Falls, Canada says it was there from the mid 1970s, if not before. Sara Zielinski of Niagara Falls, U.S.A. remembers it from at least since the 1980s. The complex was originally owned by Niagara International and partly operated by Canadian Pacific, which bought the whole thing in 1975. It was then purchased by two hotel owners in 1986, one of whom now solely owns the entire complex. It is thought the amusement rides were installed in 1986 by those owners. However, since there were definitely rides there in the 1970s, the hotel owners must have added to and/or modernized the rides at that time.

Terry Brown remembers: "Growing up in Niagara Falls (Canada) I know that there was a full amusement park in The Skylon Tower as early as the mid to late 1970s. Asking many thirty-somethings, they will tell you about `Big Blue', a giant ferris wheel that ran at a terrifying speed."

"There was quite an elaborate ghost/western town dark ride with many tricks in it including the illusion of falling barrels. A saloon scene was located to the left as one went down the escalator. Also there was a beautiful antique carousel with some tiger figures on it and a working organ." (This was an Armitage-Herschell unit that was orginally at Erie Beach. It was leased to Skylon by the then current owner who had had it restored.)
The Carousel
Circa 1977


Niagara Falls Public Library Photo Collection


The slanted angle of this photo makes it hard to discern if this ride still has "flying ponies".
Again, from Terry Brown: "Other indoor rides at the skylon were a "Ladybug" and bumper cars. It was said that the best kid's birthday parties in town were the ones that occurred the Skylon Park! In addition, one could visit a small museum called The "Potvin Museum" where wooden miniature figures were displayed; some were animated. I was fascinated as a child with a very large `band organ' in one corner that was never plugged in. It had an accordion, clam clappers, and a saxophone. Intriguingly, it was never operating, and stood abandoned in a corner at The Skylon until about 1989."
This image shows the ceiling height of the amusement area and some of its rides.
Ride Overview
Circa 1978


Niagara Falls Public Library Photo Collection


"One of the fun things to do was the Mountie Souvenir machine. A plastic mountie on a horse was moulded before your eyes for 25 cents. We used to love the smell of the hot plastic when the figurine came freshly out of the vending machine."

"Concessions sold lavender, beer nuts, and fudge. The upper level of The Skylon had a roller rink in the early 1980s."
Ride Token
1980s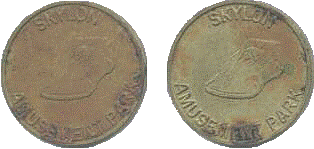 Here are the obverse and reverse of a Skylon ride token.
Jim Abbate of Chicago was there in 1982. He recollects: "It had among its attractions an antique wooden Carousel, a fast blue-painted Ferris Wheel, bumper cars, `Tilt-A-Whirl' (Sellner), and a kiddie boat ride. There were additional rides."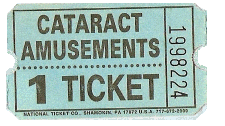 Most recently the rides were owned and operated by concessionaire Jerry Shisler of Cataract Amusements, and included a ferris wheel, "Tilt-A-Whirl" (Selner), kiddie carousel, bumper cars (came from Maple Leaf Village), go-karts, and a dark ride. Also there, was a mini golf course. Admission was free, with each ride requiring tickets, which ranged from $1 - $1.25 each. Typical ride admissions in the 1990s were 3 - 4 tickets.
There were numerous pinball and arcade games such as "Afterburner", "Galaxy Force", "Power Drift", "R-360", and "Space Harrier".
The Arcade
1995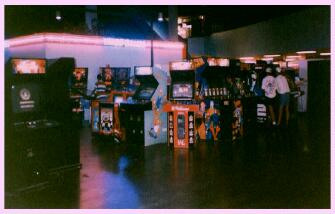 Photo: Niagara Falls Public Library
Cameron Collection
Circa 20-0s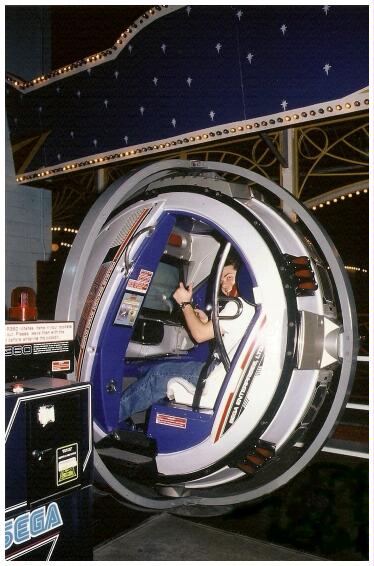 Heather Rodman of the Niagara Falls Public Library believes that by 1995, most of the rides were gone, but that at least the carousel and bumper cars remained. No date has surfaced as to when the antique carousel was removed, nor where it is today.

The park closed soon after Shisler's death in the late 1990s, with at least some the items apparently being up for auction on eBay in 2000. Today, the area is run by the Tower under the name "SkyQuest" and contains over 150 arcade games and coin-operated rides.
---
Thanks to Sara Zielinski of Niagara Falls, U.S.A. for information on the amusement area, and for the ticket and game scan.

Appreciation goes to Terry Brown in Niagara Falls, Canada for sharing his recollections.

Thanks to Larry Laevens of Cambridge, Ontario for the scan of the ride token.

Appreciation goes to Heather Rodman of the Niagara Falls Public Library for additional information and for photos.
---
Return to the
Closed Canadian Parks Index