MANITOBA
---
Winnipeg
NO PART OF THE FOLLOWING
ARTICLE AND PHOTOGRAPHS
MAY BE REPRODUCED WITHOUT
PERMISSION FROM THE AUTHOR ©
River Park
(1891 - 1941 - 1945 ?)
---
The Full name was: "Albert William Austin's River Park"
(Incorrectly referred to as Riverside Park.
This park was created by the Albert Austin Street Railway as a method to promote business during off hours and days. It also owned Elm Park across the Red River. River Park was situated on South Osborne Street in a district termed "South Fort Rouge". The park's area included land both east & west of the present Osborne Street and its St. Vital Bridge over the river. The property was on the west side of the river and extended along the bank from the present short Riverdale Street on the west by the current Elm Park Bridge (built in 1912 to replace a pontoon span), and east to about a line extended south to the river from the south end of Eccles Street.

Work gangs cleared space to make room for rides and attractions. Aspen poplars were apparently planted to make up for some of the trees removed initially as they show up in photos taken a decade or so after the park opened.
Pontoon Bridge
1890 ? 1891?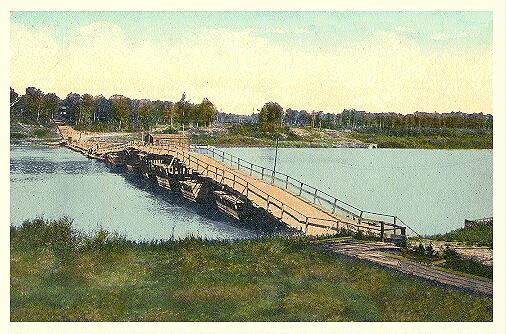 Here's a shot of the original bridge. Notice the clearing done on the opposite shore. This may indicate that the photo was taken in 1890 or 91 at the start of the park's groundbreaking. The foreground is the side of the river with Elm Park.
Opening day was Saturday, June 20, 1891 as confirmed by a Manitoba Free Press ad or article on June 22nd, although in later years, Victoria day was the usual official opening day for the season. That Canadian holiday occurs the third Monday in May. Like Elm Park, opened the year before, this too was initially a picnic park by a river.

However, it proved popular enough that a harness racing track was installed in 1893, which was also open during the park's off season. This track would come to feature auto racing later in the park's life. Patronage increased satisfactorily that two seasons later, a large roller rink was built which opened May 24th, 1895. It housed 1200 pairs of skates in its rental inventory. During the winter, the rink was converted to ice skating by flooding it with water.
Park Entrance
1906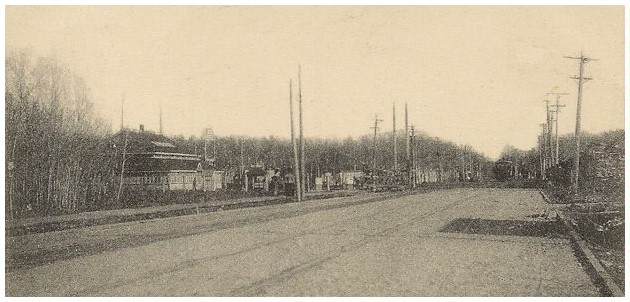 Park Entrance
Date Unknown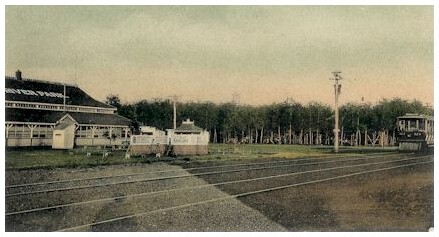 In 1895, but possibly as early as 1894, the park received a carousel. This unit, possibly a Dentzel, had come from the Columbian Exposition World's Fair which had been held in Chicago in 1893. A Winnipeg Free Press ad in the May 25th, 1895 issue, shows "Electric Riding Gallery from the World's Fair. 28 galloping horses, two 6-seated chariots, 16 Vienna chairs and beautiful picture centre". A photo taken in 1900 shows a carousel under a canvas top, but as mentioned in the Elm Park article, this may have been one moved from that park, meaning that River Park would have had two carousels by 1900.

The park was apparently promoted as a sports venue, so one would assume that archery, base/softball, a bicycle track, tennis, etc. may have been offered.

In 1900, a zoo opened which ran until 1927. After that, the animals were transferred to The Assiniboine Park Zoo in Western Winnipeg, which still exists today. Additional attractions that came to be here were bumper cars known as The "Dodgem Speedster"), another one or possibly two carousels, a large ferris wheel, shooting galleries, and a miniature train that originally charged patrons 5 cents a ride.
Miniature Railway
19-0s ?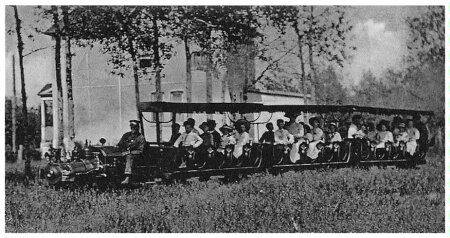 This shows the park's miniature locomotive and coaches surrounded by tall grass. The structure in the background is at 346 Clare Avenue. It is the park superintendent's building.
By 1906, if not earlier, Thomas Morris managed the park. He also did the same for Elm Park and Happyland.

Researcher Vere Scott of Winnipeg has learned that Frank Pratt built the roller rink and the "Dodgem". I have to assume this to mean that Frank built the bumper car *building* since the ride itself would have come from The Dodgem Corporation or similar. Interestingly, Frank's Wife's father, Charles Vanderlip, had the popcorn concession in River Park and Frank himself ran a concession at Winnipeg Beach Park. Charles' name also appears as the Managing Director of Western Amusement Park Limited. They would later build the "Deep Dipper" roller coaster.

A Mr. Hammerton constructed the dance hall and also put in another carousel under the name of "Hammerton's Electric Riding Gallery". It was placed on the midway in 1909. Mrs. Pratt said every animal on it was hand-carved. "Mr. Hammerton left it to his daughter Mrs. Davis. Her husband (Davis or Pratt?) ran it until the Park closed in 1941. Then E.J. Casey Shows (who ran concession rides in a number of parks), bought it and eventually sold it back to the town from which it had originally come. That town was Thornton, Rhode Island. This person was likely John Hammerton, who was River Park's superintendent and also its zoo keeper from 1900 - 1927.

Park employee John Parker's memoirs indicate there were as many as three carousels over the years. If the 1900 photo shows a second carousel and not the world's fair one, then this would be the third such ride in this park. There is nothing yet concrete on a possible third galloper, but at some point a fire damaged or destroyed a carousel; it's just not clear which one. So, either of the later units could be a replacement for a damaged one. Research continues.

In 1922, James Speers, who was billed as "Canada's Leading Breeder of Thoroughbreds", leased the race track until 1925. In that year, Polo Park in the St. James district of Winnipeg opened, and horse racing relocated to there. After that, River Park's track was used by the Winnipeg Driving Club for car racing.

There now appears to have been two roller coasters located on the midway at differing times. The first was apparently built around 1912, possibly by John Miller, and was known as The "Jack Rabbit". (One source gives 1916.)

Later, the aforementioned Frank Pratt was said to have come up from St. Louis, Missouri (Des Moines, Iowa from another source) to build another coaster, which opened in 1928. This was definitely a John Miller ride, although it's unknown what relation Pratt was to Miller. Perhaps since Pratt had building experience at the park, that Miller somehow subcontracted him for the job. It's also likely that he was related to Eddie and William Pratt. They were influenced by John Miller. An article on River Park located by researcher Victor Canfield of Hershey, Pennsylvania says that Edward and William Pratt, of Chicago, were engineers in charge of construction for buildings and the roller coaster. A permit was not issued until June 13th, 1928, although construction of the ride had already begun. Even so by the time the ride was built and opened, the season must have been well underway.

Shaped like a weak `L', the ride's layout was an out & back and had five drops below ground level: two on the way out and three after the turn-around on the way back. The National Amusement Park Historical Association (NAPHA) archives has a May 5, 1928 blueprint drawing by John A. Miller marked "Winnipeg Coaster". A cost sheet is included on Miller's Homewood, Illinois letterhead. It's dated October 8, 1928 ... New York City, October 22, 1928. It shows that the ride was built for Winnipeg Associations, Canada (parent company to Western Amusement Park Limited?) It was 701 meters in length. The designer was John A. Miller and the ride was to be of all-Canadian construction, supervised by Ed E. Pratt, at a cost equivalent of $37.80 per meter. (Note the constructor is shown as "Ed Pratt", rather than "Frank Pratt".)

All machinery and cars were fabricated in Winnipeg and the ride operated by Canadians. Total cost was $26,458, with Miller receiving $2000 for "Plans & Services". At $37.80 per meter, this puts the length at 700 metres or 753 metres if Miller's fee is included. The latter appears to be the case as a report gives a length of 762 metres. (One 1928 newspaper exaggeration puts it at around 2,400 metres(!) at a cost of $50 - $60 thousand. Another shows it as $30,000, likely a more realistic number.)

Stan Barker, Archivist at NAPHA says "Along with this, is another profile of the coaster, sketched by Miller on the back of seven sheets of hotel stationery, taped together - three from the Penn Athletic Club, Philadelphia; three from the Marlborough in Winnipeg; and one from the Spalding in Duluth, Minnesota... That's the way they designed coasters in the good old days, kids!"

Stan has also submitted the following: "According to the NAPHA Archives' blueprints for John Miller's Winnipeg coaster, there were 12 hills as follows:

            1) Lift hill: 20._ m (the decimal number is illegible due 
                to a blueprint fold), dropping to 0 m (ground level)

            2) 18.6 m, dropping to 8 cm;
            3) 15.4 m, dropping below ground level to minus 1.5 m;
            4) 12.9 m, dropping below ground level to minus 1.5 m;
            5) 10.3 m, dropping below ground level to minus 1.5 m; ...
                The coaster being an out and back, this hill (#5) was
                 on the turnaround with the bottom of the dip
                 located on the return leg;

            6)  8.8 m, dropping below ground level to minus 1.5 m;
            7)  6.6 m, dropping below ground level to minus 3.6 m;
            8)  5.5 m, dropping to 0 m;
            9)  4.3 m, dropping to 1 cm;
           10)  2.9 m, dropping to 0 m;
           11)  2.5 m, dropping to 0 m;
           12)  3.2 m, dropping to 1.8 m; , and remaining at 1.8 m in
                the loading station.

There actually is a 13th "dip", being the drop out of the loading station and around the front turnaround, from 1.8 m in the station to 0 m at the bottom of the lift hill. There were two trains of three cars each, and 22 sets of John A. Miller "Eccentric Squeeze Type Brakes." Using the first drop height returns a top speed of about 70 km/h.
Deep Dipper
Roller Coaster
circa late 1930s



From this angle, the coaster's out & back layout is very evident in a full view of the ride, Note the below-ground drops, starting with the third. This ride boasted a total of five drops below grade level.
The station is to the right of the lift hill. The building, center left, is believed to be for the bumper cars.
The ride is documented in photos and was called The "Deep Dipper". A photo from the John Parker collection taken around 1929 shows three cars in tandem ascending the first hill of The "Dipper". Each car has a pattern of vertically dark and three light (white?) bars on its side. John Parker documented River Park throughout the years with photos and sketches, and he was apparently employed there during 1940 and 1941 as official sign painter. He also operated the roller coaster from time to time to relieve the main operator, Albert McBeth.

Although there is little reference at this time regarding the earlier coaster, speculation is that The "Dipper" replaced the "Rabbit" rather than both running during a same period.

It should also be noted that the 1928 date was associated with a Miller coaster at a Riverside Park in Winnipeg. The photos of the Miller ride at River Park appear to be the same as in a Miller advertisement captioned "Riverside Park" in Robert Cartmell's "The Incredible Scream Machine". Since Riverside Park was very likely River Park, it is almost certain that they are one in the same ride and that there was a caption error in that book.
Deep Dipper
Roller Coaster
1930 or 1934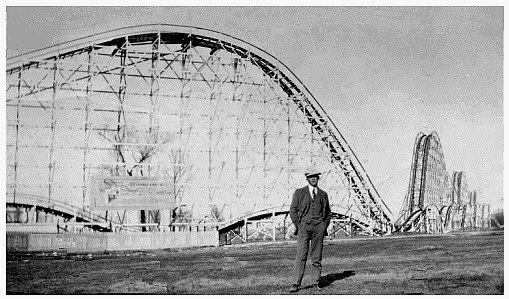 This photo, submitted by Bob Sorensen, shows his father, Ole Sorenson, beside the coaster. The station is out of frame to the left. The lift (first) hill is visible above the sign which depicts the ride's layout. The drops below ground level begin after the third hill. Note the return leg of the coaster (at the right) with each hill getting progressively lower.
A closer shot of the right side of the coaster shows its second, third and fourth hills. The turnaround entrance hill is hidden behind the fourth out-leg hill. The lower hills in front are on the return leg.


Deep Dipper
Roller Coaster
Date Unknown



This view clearly shows the track disappearing below ground level for the three drops after the turn-around, starting at Lower Right.


The "Deep Dipper" ran until 1941 when it was dismantled to be sold. A newspaper photo from June 6th, 1942 shows men taking apart the ride and then an ad appeared shortly thereafter offering a "2600-foot roller coaster structure, dismantled with cars and motors: $7000." That length is wrong when compared to the cost sheet, as described previously. 2600 feet is 793 metres, but the cost sheet gives a measurement equivalent to 701 or 753 metres.

Casey Shows was said to have had the coaster disassembled and placed in storage somewhere, but it has never turned up. There is no record yet of any sale. However, the following may shed light on at least the initial storage arrangements:

Vere Scott has heard various rumours as to what may have happened to this coaster. He says "Sold for scrap wood which was shipped to San Diego, California was one rather bizarre anecdote I've heard. Sold to some city in Oklahoma is another tale. I find the comment that E.J. Casey Shows had it in storage for X amount of time a good thing to follow up. The Casey Shows' winter quarters were in St. Vital, just across the Red River from Riverview and its River Park. My late parents, born 1917, rode this coaster."

He also believes he may have seen those coaster cars in storage: "I attended a private kindergarten on Clare Avenue (I was born in 1942, so this would have been about 1947 or 1948). At that time, there existed no houses south of Clare but for one (#346 Clare Avenue). It was after World War II that Riverview expanded its housing south and east and west to fill in the area of a large field. This field stretched south to the Red River where it meandered east, then north, then back west, enclosing the neighbourhood called Riverview."

"I remember my kindergarten teacher, Isabel Anderson, taking us on a trip across this field on a hot July or August day. We went into a large (to a five year-old) shed of some type. In the shed were cars of some sort piled one atop the other floor to ceiling. I have always remembered them as roller coaster cars but they may have been `Dodgem' cars. I have this memory of coming in out of the brilliant sunlight and sweltering heat of this field into the dark, cool, dank, musty smelling shed; the contrast has stayed with me. This shed, I realize now, must have been in the back yard of the River Park superintendent's house; this was then the only house on the south side of Clare Avenue."

After thinking about this a while, Vere now feels these were bumper cars or the miniature train cars. "I am pretty sure now that the cars piled up in that shed were probably either the `Dodgem' cars or the coaches for the miniature train - more than likely the train cars. If they were the roller coaster cars, that would mean they were kept there at 346 Clare Avenue since River Park closed in fall, 1941. This seems unlikely if the coaster was sold to Oklahoma, San Diego, or elsewhere. The Public Archives of Manitoba has several photos of the miniature train engine and the coaches, in weathered ruin in the grass beside some sheds with more sheds in the background. This is almost definitely 346 Clare Avenue, the park superintendent's back yard. A friend of his recalls the same shed and remembers the train tracks still visible in the tall grass, so it may well have been the train cars that were stored there, with the bumper cars in a shed. Local resident, John Harris, remembers the lumber from the dismantled coaster being piled on the site.

Vere recently located a Winnipeg Tribune article of March 2, 1979 titled "San Diego Has a Problem over a Winnipeg Coaster". It says The park's coaster was sold to "San Diego interests" and (as of 1979) sits in that city's Belmont Park. Winnipeggers Jack and Bernice Price, wintering in San Diego, told him that there was a confrontation between those wanting to raze it to sell it for firewood and Michael Curren who is trying to save it."

However, the coaster at that park in 1979 was The "Giant Dipper" built in 1925, so this newspaper account does not ring true. The Prices must have confused the Winnipeg coaster with the "Dipper", but I cannot imagine how, other than the word "dipper" being in both names. Of course, the San Diego "Dipper" has since been restored and runs today.

As for the Oklahoma rumour, the souvenir booklet "Fort Rouge Through the Years" says speaking of River Park: "Those who got their thrills on the roller coaster will be glad to know that after it was dismantled, it was taken to Oklahoma City, Oklahoma, where it is believed to be still in use". Since the term "believed" is used, this cannot be taken as fact either. Research continues on the River Park coaster's ultimate outcome.
---
1928 was a year of major construction at River Park. The old dance hall was converted into dressing rooms and one wall removed on to which a stage was constructed. It provided the focal point of a massive 10,000-seat open-air performance venue. A new exhibition space was made near the park's entrance with a width of 32 metres and a height of 9 metres. It sported a concrete floor and a stage at one end with a house audio system. Total seated capacity of the venue was 8.000. It opened in July in time for the Norse Convention and was used for the Winnipeg Summer Fair. That was held at the park that year from August 6th through the 11th. Concessions were moved to the south and a boardwalk was put in.

The zoo was removed as discussed earlier and replaced with a children's entertainment area. This included an attraction called "Monkey Island". Attractive landscaping completed the look and included a flower-bordered walkway between the new buildings. Also mentioned is a grandstand and track, but it's unknown if they were new that year or were older.

Additional photographs of River Park show the carousel, "Deep Dipper" roller coaster, "Dodgem Speedster", "Pasallis Ice Cream Parlour", and a popcorn stand. A 1929 aerial photo shows an open-top enclosure to the right of the "Deep Dipper" entrance. This may have been for a Traver "Missouri Mule" but no mention of this ride has surfaced.

Also seen is The "Whoopee House" funhouse. This same recognizable tilted building appears in midway photos through the years. Two shots from different periods appear below. Its name was changed to "Crazy House", then lastly, "Fun House".
The Fun House
circa 1910s or 20s
The Fun House
circa late 1930s
The midway's boardwalk ran across a grassy expanse surrounded by a low white picket fence. In this area was a fire lookout tower. The ice cream stand also was a cafe, and later became a small grocery store owned by Peter Kozub and called "Kozy Korner". It survived the park closing, which is when it may have become a grocery business.

By the late 1930s, some games in the park were "Bowl-A-Game Jr", "Hoop-La" and "Whirl-A-Ball". Rides shown in some photographs of that period include "Dodgem Speedster", "Matt Thompson's Dilly D..." (illegible in photo), and "Racem" (full name: "Racem`N' Rackem" ?). Another ride was a "Chair-O-Plane". This may have been a Goodings "Chain Swing" or a Traver "Merry Mix-Up". Those swing rides were cloned by several manufacturers during that era.

Three years into World War II saw the park's patronage declining. It's possible that coupled with the war effort syphoning customers away for other purposes, the "open year-round" policy for some attractions, no grounds admission charge, and competition from other Winnipeg parks hastened its demise. So in 1942, the city bought the property where it developed an urban nature park, Churchill Drive Park, while selling the balance of the land to housing developers. The skating building was bought by the University of Manitoba, disassembled, moved to its campus, and renamed "Bison Gardens". It has since been demolished after being used for a number of years as classrooms for the Faculty of Architecture.

It's not completely certain if 1941 was actually the last season that the park was open. It closed that year on Labour Day, September 1st. John Harris remembers that there was a board fence meant to keep people out of the closed park but many boards had been removed. One source believes, and other clues suggest, some amusements were run until the end of the war, which the city certainly could have done before developing the land. Considering Vere Scott's account that no, or few, houses had completely occupied the area as late as 1947 or 48, some attractions may have run for a few additional seasons.

That aside, general demolition of River Park began during the first week of May in 1942. As previously mentioned, a June 6th newspaper photo shows men dismantling The "Deep Dipper". Auctions of equipment took place during May and June.
---
Thanks to Tim Covell of Ottawa, Ontario for the initial information on this park.

A special thankyou to Vere Scott of Winnipeg, Manitoba for the unselfish sharing of his on-going River Park research.

Thanks to Stan Barker for providing NAPHA (National Amusement Park Historical Association) information on The Deep Dipper.

Thanks to Victor Canfield of Hershey, Pennsylvania for newspaper scans.

Appreciation goes to Rob McInnes of Winnipeg for submissions of postcard scans showing the park entrance, trolley lines and miniature railway.

Thanks to Jonathan Van Winkle for clarifying the address of the superintendent's house seen in the photo of the mininature train.
---
Return to the
Closed Canadian Parks Index