PRINCE EDWARD ISLAND
---
Cavendish
NO PART OF THE FOLLOWING
ARTICLE AND PHOTOGRAPHS
MAY BE REPRODUCED WITHOUT
PERMISSION FROM THE AUTHOR ©
Rainbow Valley
(1969 - 2005)
---
Rainbow Valley, a 12-hectare family theme park was apparently started by Earl Davison and members of the Johnstone family in the late 1960s. Situated on PEI's northern coast, it mainly catered to the younger set and came to have children's rides, waterslides and other attractions. Being in "Anne of Green Gables" land, the park was named after author Lucy Maud Montgomery's 1919 book Rainbow Valley.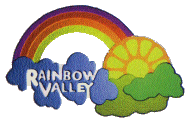 Along with boating and picnicking, the park first featured the "Flying Saucer" gift shop. This was a round, fiberglass structure with an entry staircase that rose up to seal the saucer during off hours. Later were added a reduced-scale replica of the actual "Anne of Green Gables" house (just down the street from the park) and another called "Fairyland Castle", plus "Aura of Fantasy". A playground was included in this area, too. Other attractions in the early years were giant, outdoor checker boards and a children's farm with baby animals such as kittens, puppies, lambs, and ponies.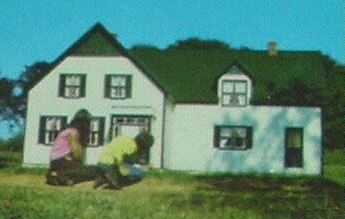 Admission was eventually charged and initially was $1.50 for children and $2.00 for adults. Children under 5 were free - a policy that continued through the park's final closing. The area was unlit and first ran from 9 AM till dusk, June through September. By the 1990s, Sunday hours did not begin until 11 AM and adult admission had risen to $14. Season passes were $42.00, or $46.00 after Father's Day in June.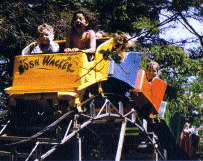 As the park prospered, other attractions were added such as a Schiff kiddie coaster (1992), a pool with water-park devices, waterslides, horse-drawn carriage rides, park cartoon characters, and live stage shows.
Rainbow Valley
Central Area
circa 1970s



The park was sparse on attractions in the early years, but still proved popular.



Shown is one of the main areas of the park. A monorail car has almost crossed one of the park's lakes, having just passed in front of a castle on the shore. Pedal boats adorn the lake.

Rainbow Valley Central Area
circa 1990s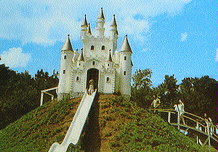 Rainbow Valley expanded over the years to 16 hectares. Additional attractions added were The "House That Jack Built", swan boats, a trackless miniature train, a magic show, and a fire-safety exhibit with an actual fire truck. Then there was the talking owl (Mrs. Sleepy Owl), and the spooky cave with lots of gags (including a secret trap door). Some of the gags required active discovery on the patron's behalf. One of these was a wooden beam that was stuck loosely to a wall. It would trigger a buzzing sound if pressed.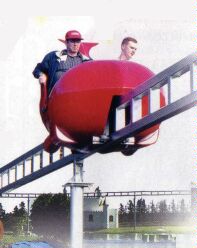 In its last years, offerings included three lakes, roller coaster, six waterslides, a petting barn, a playground, a hedge maze, and a number of amusement rides. There was also a U-drive monorail that required one of the riders in the whale-themed cars to press down on an accelerator to move along the track. In addition were a games room and food outlets. Souvenir shops were "Castle Gift" and the "Flying Saucer Gift Shop".
Another attraction at closing was a dark ride with 13 life-size characters, a simulator and special effects. It was themed as a boat adventure through rum running times. It's unknown if this was demolished or sold to another park.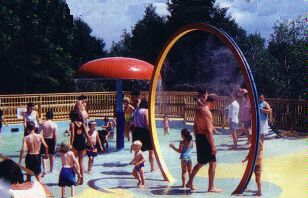 The final season saw more live entertainers and shows such as Rainbow Ron, a children's magician and entertainer. The park also continued to offer Evening Frolic Shows in the Rainbow Room for an additional fee. These included fiddle, guitar, piano, stepdancers and vocalists. They performed the traditional Down East and Old Time music of Canada's Atlantic Coast.
It should be noted that many of the attractions were designed and manufactured by Earl Davison himself.
Red Baron Ride
circa 1990s



Zamperla's "Red Baron" represented one of the children's rides at the park bought from commercial manufacturers.
---
Rainbow Valley closed in the mid 20-0s to be bought by Parks Canada whereupon it was made into a day-use nature park, part of P.E.I. National Park. A portion of the reason for the purchase was an erosion problem on the park's Gulf of St. Lawrence side. This was repaired after purchase, but it apparently meant removal of some of the land near the water. The other reason for closure was that the park's owner, Earl Davison, wished to retire.

Parks Canada paid $2.7 million for the property, and at the time of purchase planned to invest $3.3 million in changes. Those were to include beach parking(*), bicycle and walking paths, and a roller skating facility, but it's not known how much of this was realised. The renovated area reopened in July of 2007 as Cavendish Grove.
(*) Parking at Rainbow Valley had been on grass near the park's entrance; it had never had an actual parking lot.

A developer expressed interest in building a family theme park across the main road from Rainbow Valley to make up for the loss. Shining Waters Family Fun Park opened for the 2006 season in June. Reports say it has some of the attractions that used to be at Rainbow Valley including the saucer. The park has a Herschel "Lil' Dipper'" roller coaster that came from Burlington Amusement Park in Burlington, PEI. Up the street currently lies Sandspit, a classic-style amusement park based solely on rides.
---
Return to the
Closed Canadian Parks Index