QUEBEC
---
Montreal
NO PART OF THE FOLLOWING
ARTICLE AND PHOTOGRAPHS
MAY BE REPRODUCED WITHOUT
PERMISSION FROM THE AUTHOR ©
Mountain Park
(1890s ? - ?)
---
This was mainly a public nature park but deserves mention due to its five or six-lane iced toboggan run that was operated each winter. It consisted of a large wooden structure at one end which had stairs taking one to the launch points. A laned, iced ramp led from there to a natural slope into a gentle valley.
Mountain Park
Toboggan Run
circa 19-0s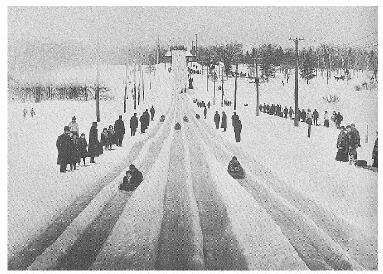 Here is a photo taken from part way up the run. This year, there were six lanes. The start gates may just be descerned. At Upper Right, horse-drawn sleighs and some horses carrying single riders are visible through the bare trees as they arrive or depart the slide's entrance.
The run would go down the ramp to the ground and follow dips to the lowest point of the valley where upon the run would slope upwards to a long section that would bring the toboggans to a stop via gravity. There were no turns, just an undulating straight run. Estimated length is 1/4 to 1/2 kilometer. At night, the course was illuminated by electric lights over the center of the lanes. These were supported by power poles on either side.
Mountain Park
Toboggan Run
circa 19-0s



This is a shot taken from farther
down the run near its end during
a season when there were five slide
lanes. Note at Center Right the
photographer with a tripod.
Mountain Park
Restaurant
Date Unknown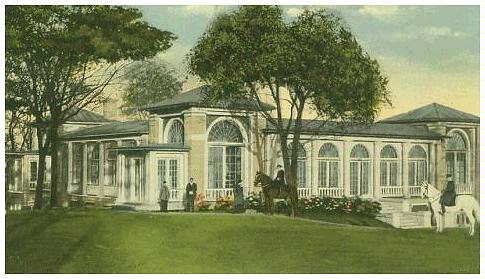 Here is a hand-tinted postcard image taken in warmer days.
---
Return to the
Closed Canadian Parks Index