ONTARIO
---
Brantford
NO PART OF THE FOLLOWING
ARTICLE AND PHOTOGRAPHS
MAY BE REPRODUCED WITHOUT
PERMISSION FROM THE AUTHOR ©
Mohawk Park
(Start of the 20th Century ? - 1932 ? - Present Day)
---
Little is known on this park at this time except that it had a wooden 8-tub ferris wheel and later on, a 3-row Parker carousel with 40 jumpers, and 2 tubs (chariots?). Information also mentions the name "Herschell\Spillman", two boats with rocking action, and a Wurlitzer model 125 band organ. It's not clear if this was the configuration while in the park, or if these were added later. The ride was built in 1906 but apparently bought used and moved to the park - perhaps by the 1910s or 20s. It was eventually sold to The Roseneath Fairgrounds after the 1932 season, where it may be seen today. -Roseneath Carousel.

A postcard, below, shows the wooden 8-tub ferris wheel. It's unknown how this was powered. It seems too large to be hand turned by humans and no animals are seen. However, there is a small structure behind the wheel. Perhaps it may have housed a steam engine. An apparent drive rim is attached to the wheel on the same side as that building. Conversely, no smoke stack is seen, nor is any smoke. However, the artist that coloured the photograph for the postcard may have painted these out.

Seen also is an unusual teepee-like structure. Perhaps this was some sort of swing ride.
Mohawk Park
Circa 19-0s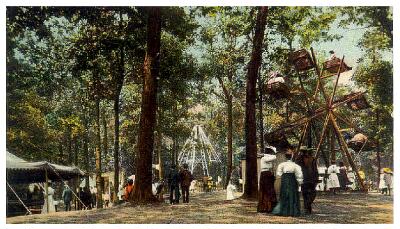 This shows a picnic shelter to the left and the wooden ferris wheel at the right. Note the small structure behind the wheel to the left. It is partially hidden by foreground people and a tree. In the background is the teepee-like structure. It almost appears to be made from aluminum but is likely white-washed wood.

Given that the carousel was removed by 1932, that or 1931 may have been the park's last season. Perhaps like many of the era, this park suffered business loss after the 1929 stock market crash. Today, Mohawk is a day-use nature park with sports fields, trails, and a 200-seat pavilion. See: Mohawk Park Today.
---
---
Return to the
Closed Canadian Parks Index