ONTARIO
---
Cambridge
NO PART OF THE FOLLOWING
ARTICLE MAY BE REPRODUCED WITHOUT
PERMISSION FROM THE AUTHOR ©
Idylwild Park
(1860s - 1916? 1918?)
---
This trolley park was located between Preston and Hespeler in Ontario in present-day Cambridge. It straddled Speed River and provided a shady picnic ground with awater spring, a dance pavilion, a refreshment booth, swings, and a baseball field.

Idylwild was built by the Galt, Preston & Hespeler Street Railway as a way to garner business on off days from those whom would attend the park. They would have to pay the trolley fee and thus, it generated money for the company, along with anything spent while at Idylwild.
The Streetcar Entrance to the Park
Circa 19-0s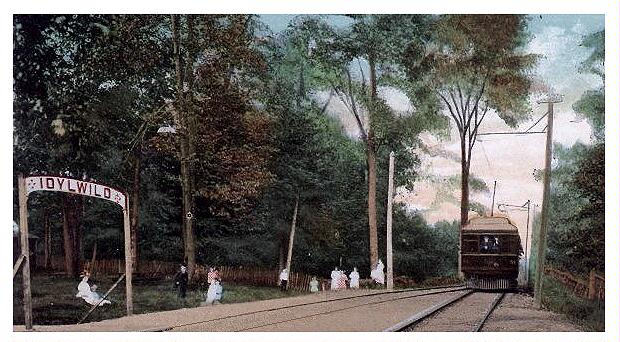 On a warm day, a streetcar approaches Idylwild as patrons lounge on the grass by the park's main gate.
Due to the proximity of the park to the river, it got the nick name of Mosquito Park. Frequent flooding was a problem early in the season and this may have led to the parks eventual demise.

The year of closure is uncertain, but 1916 seems to be the most likely. However, in 1918, the streetcar tracks were moved away from the river to avoid flooding in the spring, so it's possible that may have spelled the end for the park. Today, there is a hiking trail through the area that traces the old right-of-way of the original streetcar tracks. Part of it is known as The Mill Run.




For another look at this park, see: Idylwild Park

Also, see the: Galt & Preston Street Railway
Thanks to Greg Hood-Morris of Cambridge, Ontario for suggesting this park.
---
Return to the
Closed Canadian Parks Index