ONTARIO
---
Toronto
NO PART OF THE FOLLOWING
ARTICLE MAY BE REPRODUCED WITHOUT
PERMISSION FROM THE AUTHOR ©
High Park
(1873 - Present Day)
---
This park still exists today northwest of Humber Bay as a public nature park with a central zoo. Upon his death in 1900, it was willed to the City of Toronto in 1873 by owner George Howard. This was the same person that had owned the land overlooking what would become Sunnyside Beach Park. From 1873 until his death, he received annual payments of around $960.00 from the city for the use of the park. After that, the city owned it outright.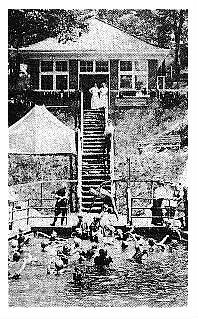 High Park was open year round. In summer, it was mainly a picnic park, with Grenadier Pond, at the south end, available for fishing. Mineral baths were also offered.
By the 1890s, long bicycle paths were available and became so popular that Sunrise Prayer Meetings were held for the cyclists on Friday and Saturday mornings.


High Park
Bicycle Path
Date Unknown
| | |
| --- | --- |
| This shows the untouched nature of High Park a century ago. | One of the High Park's Streams |
In winter, the pond was used for skating and curling, while tobogganing and snow-shoeing were done in the wooded areas. This might have been a use for the bicyle paths in winter.


Snowshoing in
High Park
Date Unknown
Toboggan Run
Late 19-0s


Photo: William James
Toronto Archives #SC 244-481
Details are unavailable, but apparently at one time the park may have had some amusements. Neil Goodwilll of Port Dover, Ontario, believes there was a miniature railway which ferried visitors through the area.

Currently included on the grounds is John Howard's estate home. It is known as "Colborne Lodge" and boasts the oldest in-house bathrooms in Toronto. It was installed in 1854. John and his wife are buried on the property. The graves are in an enclosure protected by a cast iron fence imported from England where John had been born. It is supposedly the oldest exisitng fence of this type on the planet.

Today the area remains a day-use park with a zoo, greenhouses, and an outdoor theater. Sports facilities include tennis courts, a swimming pool and an ice rink.
---
Return to the
Closed Canadian Parks Index