NOVA SCOTIA
---
Pictou County
NO PART OF THE FOLLOWING
ARTICLE OR THE PHOTOGRAPHS
MAY BE REPRODUCED WITHOUT
PERMISSION FROM THE AUTHOR ©
Greenhill Lookoff
(Green Hill Lookoff)
(1800s. 1931 - 1959. 1960)
---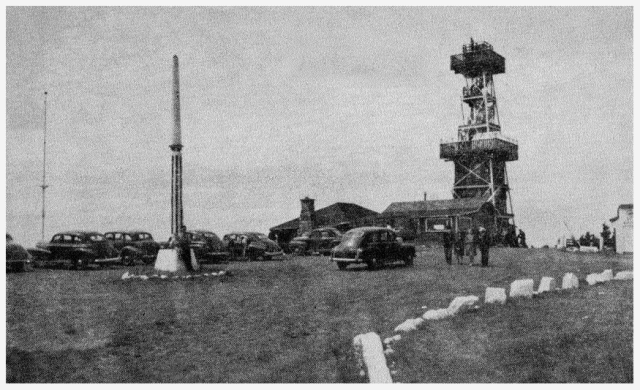 Shown is the parking lot and lookoff tower, with buildings
that contained the museum, restaurant and dancehall.
Late 1940s.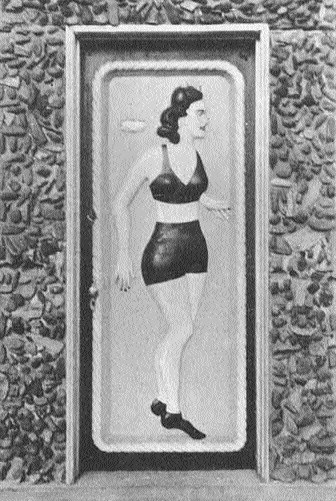 This was a tourist site on a high hill overlooking parts of five counties near Middle River. Mi'kmaq natives named it "Espokumegek", meaning "a high land". European settlers had arrived there in the 1790s and over the next century established churches, schools and a post office.
Perhaps due to an influx of visitors wanting to see the view, a 20-metre, steel tower with two observation decks was constructed in 1931 to enhance that purpose by A. D. Ross. of New Glasgow and by Clifford Rose. It opened July 1st of that year. From its top deck, many counties could be seen that lay within the Nova Scotia mainland, Cape Breton Island, and Prince Edward Island, for a total of seven. A telescope was installed to allow viewers to see the sites close up.
A dancehall and restaurant were added for the next year. Then a museum, suggested by Ross, was built that was run for a few decades from 1933 through 1959, first by them both, then Rose alone after Ross' death. Named The Pioneer Museum (sometimes shown in print as The Pioneer's Museum), artifacts were gathered from a wide variety of sources and set up in displays. A unique feature was that one of the museum's doors had a relief carving of a bathing-suited girl of the era.
By 1950 its collection had risen to over 450 exhibits, some dating from the 1600s. Included were farm and forestry implements; everyday items worn and used by early colonial settlers in the province; trade and profession tools and accessories; books and ledgers; legal records, certificates, licences, and treaties; salvaged items from shipwrecks; military uniforms, helmets and medals; weapons and their accessories; paintings and photographs; numerous ship models; cooking implements and other antique household items; coal mine fossils; transportation vehicles that included a velocipede, a stagecoach, and sleighs; historic newspapers and magazines; navigational instruments; and all manner of old personal items.
Many of the museum's artifacts were connected to historical events such as wars and famous battles, or to firsts such as the early steam-powered crossings of the Atlantic Ocean, or the first telegram sent in the province. Some were tied to significant ship wrecks, of which the Nova Scotia coast has had many bad ones.
Then there were exhibits that were associated with important or famous people such as aboriginal leaders, inventors, soldiers, ships' captains, and politicians. Some were donated by them or by their friends or relatives; other items came to the museum via other paths, but with their stories intact. At least one of those important persons actually stopped by personally. 1934, July 31st saw Great Britain's Prime Minister Ramsay MacDonald spend an afternoon at the Lookoff. He donated a hand gristmill to the museum as a token of his visit.
The venture proved popular enough that organised picnics and sporting events began to be held. Amusement rides were provided by a carnival company (Bill Lynch Shows?) in some summer months.
In 1959, the Province of Nova Scotia bought the operation. For one more season, Harold Long leased the facilities and ran them. The province then made the area into a public park with picnic grounds, as it remains today. The museum pieces were auctioned off to collectors. Photographs of some of the artifacts may be seen here: GreenHill Lookoff Pioneer Museum
---
Thanks to Peter Smiley of Dartmouth, Nova Scotia for suggesting this park.

The door image is a cropped and enhanced photograph from the Nova Scotia Museum.
---
Return to the
Closed Canadian Parks Index