MANITOBA
---
Grand Beach
NO PART OF THE FOLLOWING
ARTICLE AND PHOTOGRAPHS
MAY BE REPRODUCED WITHOUT
PERMISSION FROM THE AUTHOR ©
Grand Beach
(1915? 1916 - 1950? - 1961 - Present)
---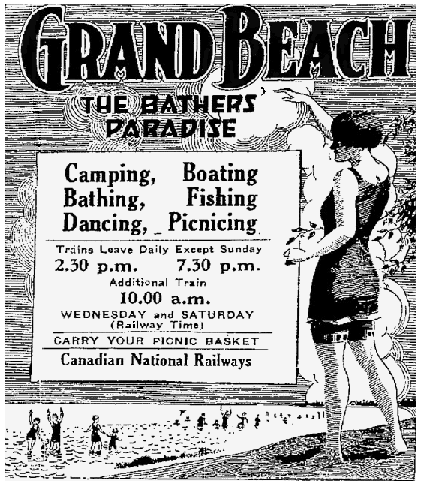 This currently-popular nature area on Lake Winnipeg has an amusement past. A sandy beach nearly three kilometres in length was enjoyed by natives long before settlers moved west in Canada. Such an attraction was a plus for any developer, so The Canadian Northern Railway placed a line to the area in 1916. They may have seen how well The Canadian Pacific Railway was doing with its development of Winnipeg Beach on the western shore and decided they could open a similar venue. Theirs was located across the lake on the eastern side.
During and after the Great War, the place began to be developed in a more commercial manner. By the early 1920s, a bath house and food concessions had been established along with a wooden boardwalk that ran from the station along the beach to a lagoon. It would eventually be illuminated at night. Trains brought vacationers and picnicking day trippers from Winnipeg eighty kilometres southwest of Grand Beach. Apparently by then, The Canadian Northern became part of Canadian National Railway (CNR), as the advertisements reproduced in this article illustrate.
Athletic Grounds
1890s or 19-0s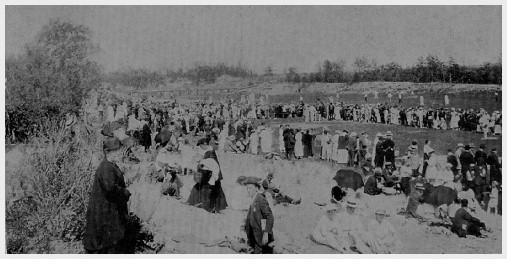 Note the bridge across the gully in the background.
A huge dancehall was erected early on (1915 from one source). At the time it was supposedly the largest in the Commonwealth until the massive floor at Crystal Beach opened in May of 1925. The Grand Beach dancehall would entertain patrons until destroyed by fire in 1950. Admission was free but dances were initially priced at 5 cents. Frequent vacationers saw the need for a hotel, as well. It may have been built at the same time as the dancehall.





The CNR promoted the park with extra trains on special days and in addition, printed a brochure which was available upon request. This is metioned in the newspaper advertisement from 1919 shown at the right.

Picnics were encouraged, perhaps because they would entice patrons to stay longer.





Train Station
Circa 1940s or 50s




A steam-engine train waits patiently as passengers mill around it and the station.






Dance Pavilion
Circa 1930s




The raised boardwalk stretches out along the beach toward the Dance Pavilion. Note the arched roof on the dancehall.





The only amusement ride shown in research so far is a carousel. However, no details of it have surfaced other than that it was enclosed and apparently had only horses. Other entertainment at the park included beauty contests and body building exhibitions.

The Beach
Circa 1930s




This shot of the beach on a sunny day shows the water filled with swimmers. Notice the simple playground-style water slide at Center Right.





By the end World War II, several hundred had built summer homes in the area. Canadian National Railway had been servicing the area since at least 1919, and the beach's popularity had grown to need two regular runs per day in peak season. This service would run until September, 1961 at which time CNR's land there would go to the province. Presumably this is when the area became a provincial park. However, it's possible the amusements at the park ended in 1950 when the dancehall burned.

Today the area is a Manitoba provincial park of almost 2500 hectares. It promotes day usage of tennis, swimming, picnics, hiking, and also offers a historical photo exhibition along the boardwalk. In winter, ski trails are available.

---





---





Return to the
Closed Canadian Parks Index