ONTARIO
---
Fighting Island
NO PART OF THE FOLLOWING
ARTICLE OR IAMGE MAY
BE REPRODUCED WITHOUT
PERMISSION FROM THE AUTHOR ©
Fighting Island Park
(1891 ? - 1895?)

Golden Gate Park
(1906 ? - 1908 ?)

Unknown Name
(1909 ? - ?)
---
700 hectare Fighting Island (known as Des-Cree-Shos-Ka by aboriginals), lies in the Detroit River opposite La Salle, Ontario. It took its english name from the indian wars which had plagued the land for over a century. Golden Gate Park was started around 1906 by Albert Jacobs with a supposed $1 million budget. This was not the first try to make the island a resort and place of amusement, because in the early 1890's, a large hotel, billiard hall, bowling alley, and drinking establishment had been built on the island. That venture failed in part because the owners, William & Edward Gillman and Howard Barnes could not establish regular and reliable boat service to & from the island. It was reported that some patrons were unable to arrive home until 3 or 4 o'clock in the morning. They ceased operations about 1895 and the property went to Francis Palms.
The Hotel
Early 19-0s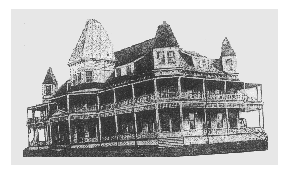 Here is a drawing of the hotel around the time it was abandoned.
In 1906, Mr. Jacobs, a resident of Chatham, Ontario, leased the land in order to start his venture. It was also planned to rename the island "Palms Island", perhaps as a way to lessen the stigma attached to the property. In May or June of 1906, renovations were begun to the hotel & casino, and the power plant was repaired & enlarged in order to supply the electricity required. Several new buildings were erected, including a dance hall of nearly 700 square metres in size. The amusement area would occupy the northern end of the island around the hotel and the southern end would be built up for use by bicycles and automobiles. A regular ferry service was included in the budget.

No additional information has surfaced on Golden Gate Park, but it too, failed. A July 1909 newspaper article in the "Detroit News Tribune" stated that Edward Britton of Pittsburg wished to revive the area. He had rented land around the hotel and had applied for a liquor permit. He said the area had not been run properly previously, and that he planned to expand the operation. Nothing further has been found to say what happened. Research continues.
---
Return to the
Closed Canadian Parks Index