ONTARIO
---
Aurora
NO PART OF THE FOLLOWING
ARTICLE AND PHOTOGRAPHS
MAY BE REPRODUCED WITHOUT
PERMISSION FROM THE AUTHOR ©
Bond Lake Park
(1880s ? - 1929 - 1930?)
---
Little has surfaced on this park, but it was most popular in the first few decades of the twentieth century. It was located on Bond Lake near the boundary of Aurora and Richmond Hill on the east side of Yonge Street, and south of Sunset Beach Boulevard. Streetcar tracks had been extended up Yonge Street beginning in 1885 until they passed Richmond Hill a few years later. This undoubtedly made the park more popular and many Sunday School & other picnics were held there.
Boating on Bond Lake
Date Unknown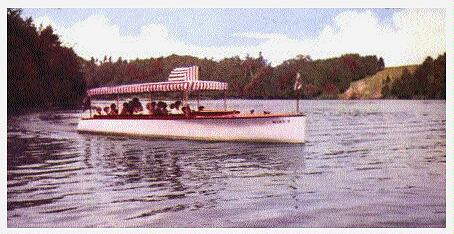 The line was electrified in 1889 and was operated by The Metropolitan Electric Railway Company (MERC). Electric street cars reached Bond Lake Park by around 1907. Later, The MERC was acquired by a company that came to be The Toronto and York Radial Railway Company. The term "radial" refers to the rail lines radiating from the main city of Toronto and thus parks at the end of these lines became known as "radian parks". The TYRR company eventually went bankrupt and after which, their lines were run by Ontario Hydro. The Toronto Transportation Commission (TTC) took over from them in 1927, as they had done with other many other transportation companies in the Toronto area. There is no reference to amusement rides at this time.

Although The TTC ran other amusement parks such as Scarboro Beach and Hanlan's Point, they did not buy into this one. In fact, they ceased service north of Richmond Hill in 1930, probably causing suffering to the park, which likely closed that season, if it even opened at all. The closing was likely the result of The Stock Market Crash in 1929 and the increase in use of the automobile.

Today, like so many of Canada's former amusement parks, the land and surrounding area are now occupied by a residential subdivision that covers a 26-hectare area including nearby Lake Wilcox. The subdivision currently consists of 495 homes, with a proposed future expansion south of this development. This new area would cover about an additional 210 hectares and would consist of 2000 residential units, a restaurant gallery, symphony pavilion, and a recreational trail system surrounding Bond Lake.
---
Return to the
Closed Canadian Parks Index