ONTARIO
---
Bay View
NO PART OF THE FOLLOWING
ARTICLE AND PHOTOGRAPHS
MAY BE REPRODUCED WITHOUT
PERMISSION FROM THE AUTHOR ©
Bay View Park
(1883 - 1920s?)
---
On Carroll's Point, across the bay from Hamilton, George Midwinter erected The Bay View Hotel, and several cottages on land previously owned by Peter Carroll. He had died in 1876, and seven years later Midwinter either bought or leased land, presumably from Carroll's widow.

The hotel stood on a high bluff overlooking the water. Included on the grounds were swings, roller skating (The Bay View Roller Rink), and a carousel. The area was called "Bay View Park" and was open year round, although the outdoor amusements were closed during the off-season.

Entertainment at the hotel included a billiards room and dancing in a ballroom. The latter had a house piano and at least one house band: The Bay View Brass Band. Patrons could eat and drink at the bar, restaurant, or ice cream parlour. There was even a candy store on the premises.

Access was by road and ferry. The latter included The "Clara Louise", "Lillie", and "Maggie Mason". There were four sailings daily from 10:15 AM through 3:30 PM. Ferries left from the Simcoe Street dock and landed at the park. Visitors then walked up a long stairway to the park itself, 30 metres above the water.
The Beach and Ferry Landing
Date Unknown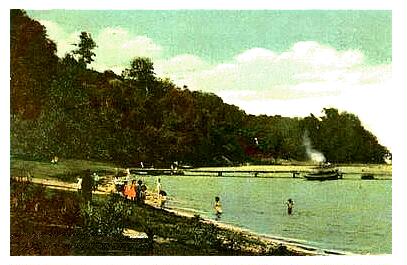 Swimmers enjoy the water at Bayview's curving beach. In the background may be seen the pier with a ferry moored.
The park was successful enough that for the 1886 season, an inclined railway was installed to save visitors arriving by water the long staircase trek. A steam engine powered the railway, which had two tracks, each with an eight-passenger car.

Nothing is known about the latter part of the park's life, but at some point, Midwinter sold the business and went on to manage the Astor Hotel in Hamilton. The park continued, but its year of demise is not known, at this point. The Bay View Hotel was eventually demolished and today, The Hamilton Mausoleum occupies that location, while the rest of the Carroll property may be seen as The Woodland Cemetery.
---
Thanks to Dorothy Turcotte of Grimsby, Ontario for information on this park.

Appreciation goes to Janet Forjanfor of Hamilton, Ontario for additional information and for the postcard scan.
---
Return to the
Closed Canadian Parks Index